About Kehena Black Sand Beach on Hilo & East Island, Hawaii
Kehena Black Sand Beach is a well-known secluded and clothing optional beach in the Puna District of the Big Island. It's not a big beach, but it is a beautiful spot with a tropical feel. If you are comfortable with some of the beachgoers sans clothes, you should check this place out.
The sand at Kehena Beach is very dark and soft on the feet but watch for rocks that can stub toes. The beach faces southeast so it doesn't get direct sun in the evenings. When the sun is on the black sand earlier in the day it can get hot so having a towel is nice. Behind the beach there's a high steep lava rock wall and many tall palm trees which provide shade during the middle part of the day.
Swimming is common here despite the fact that this beach gets hit by waves most of the time. It is a dangerous place to swim due to a brutal shore break and a rip current that can pull unsuspecting swimmers out to sea. Be very careful if you get in the water at Kehena. Fins are recommended.
Access is down either of two steep trails located at each end of the beach. You'll want good shoes to make the trip as the trail surfaces are made up of sharp rocks.
The beach has a small parking lot across from the home at 12-7192 HI-137, Pahoa. You'll also find spots along the shoulder of Highway 137 (Kalapana-Kapoho Rd), just make sure your car is completely off the road and not blocking any driveways. Citations for parking infractions do happen here. From the parking lot you'll walk north along the road before turning right onto the trail.
If you want to find lodging in the area look for Airbnb and VRBO rentals with the name Kehena plus words like Beach Cottage, Villa, Vacation Rental, etc.
Address

12-7194 Kalapana - Kapoho Rd
Pahoa, HI 96778

Owner

Public

Fees

Free parking

Activities

Sunbathing

Amenities

Shade Trees, No Facilities
Leilani Estates,US
11:24 pm, September 21, 2023
72°F
L: 72° H: 80°
Feels like 72.9 °F light rain
Wind gusts: 1 m/s
UV Index: 0
Precipitation: 0.02 inch
Visibility: 10 km
Sunrise: 6:08 am
Sunset: 6:17 pm
Nearby Beaches
3.2 miles away
Kaimu Black Sand Beach is a narrow strip of rocky beach below a short lava rock cliff in the...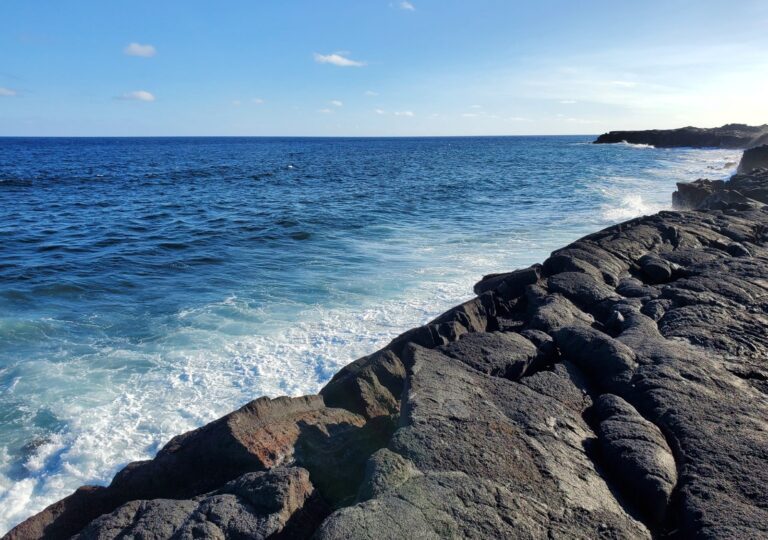 4.1 miles away
Hakuma Cave of Refuge is a hard to find lava tube that ends at a cliff above the ocean....
4.5 miles away
MacKenzie State Recreation Area is small forested and beachless state park on the coast of the Puna District. The...
Nearby Attractions
20.4 miles away
Hawaii Volcanoes National Park is on the Hawaii Island (the Big Island). At its heart are the Kilauea and...
Nearby Lodging
Reviews
There are no reviews yet. Be the first one to write one.