About Kaimu Black Sand Beach on Hilo & East Island, Hawaii
Kaimu Black Sand Beach is a narrow strip of rocky beach below a short lava rock cliff in the Puna District of the Big Island. Any sand here comes and goes with storms and is not really accessible at high tide. Still, this shoreline access is a great short hike with the opportunity to extend your trip by walking along the shoreline on smooth lava in either direction.
The land at Kaimu Black Sand Beach was created during a lava flow from Pu'u O'o vent starting in 1990 and ending in early 1991. In that flow, all of the homes in Kalapana were destroyed and much of Kaimu was too. The old Kaimu Beach Park was covered in lava and new land was added to the coast during that time. The new Kaimu Black Sand Beach is at the edge of the newly created land and the trail to it crosses that lava flow.
Kaimu Korner Country Store is next to the parking lot for Kaimu Beach. That's a great place to get snacks and drinks for your hike. This area around the trailhead is now known as Uncle Roberts and local venders might set up shop in the parking lot or along the first part of the trail.
The hike is about 1/3 of a mile from the trailhead to the beach. Just walk straight toward the ocean and you'll get there. The trail is pretty easy to follow as it has red sand, rock markers, and even low palm trees lining the path in places. When you get there, take pictures and explore the shore, but don't go swimming as waves and currents are typically too strong.
After your hike you can get food and drinks served to you at Kalapana Smoothie Shack on the adjacent private property known as Uncle Robert's Awa Club which is visible from the trailhead parking lot. Every Saturday morning until noon the Kaimu Farmers Market is held on the Uncle Robert's property and it's a great place to get produce, hot and cold foods, deserts, gifts and more. On Wednesday nights starting at 5pm they have an evening market with vendors and live music too.
Address

12-5032 Pahoa Kalapana Rd
Pahoa, HI 96778

Park Name

Kaimu Beach Park

Owner

Public

Fees

Free parking at trailhead

Activities

Hiking, Beach Exploration

Amenities

Trails, Toilets, Store, Cafe
Leilani Estates,US
10:15 pm, September 21, 2023
72°F
L: 72° H: 80°
Feels like 73.18 °F overcast clouds
Wind gusts: 5 m/s
UV Index: 0
Precipitation: 0.02 inch
Visibility: 10 km
Sunrise: 6:08 am
Sunset: 6:17 pm
Nearby Beaches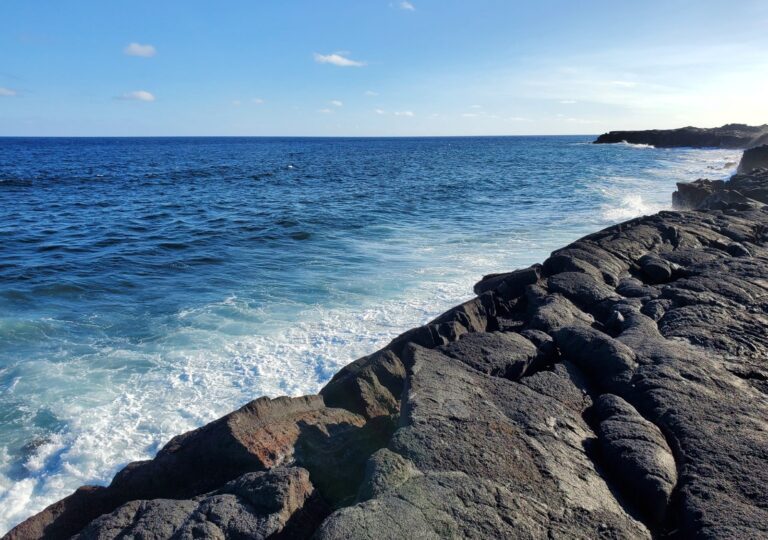 0.9 miles away
Hakuma Cave of Refuge is a hard to find lava tube that ends at a cliff above the ocean....
3.2 miles away
Kehena Black Sand Beach is a well-known secluded and clothing optional beach in the Puna District of the Big...
7.7 miles away
MacKenzie State Recreation Area is small forested and beachless state park on the coast of the Puna District. The...
Nearby Attractions
18.5 miles away
Hawaii Volcanoes National Park is on the Hawaii Island (the Big Island). At its heart are the Kilauea and...
Nearby Lodging
Reviews
There are no reviews yet. Be the first one to write one.