Keawaiki Bay Beach (Lone Palm Beach)
About Keawaiki Bay Beach (Lone Palm Beach) on Kona & West Island, Hawaii
Keawaiki Bay Beach is a hidden gem that you have to earn with a hot hike through a lava field. The beach surface is a mix of black sand, pebbles, loose lava rocks, and fixed lava. At the north end of the beach there is a single palm tree right on the beach which gives this beach its nickname, Lone Palm Beach. The tree has not survived its salty purchase and wouldn't have provided shade anyway, but it's definitely an oddity worth witnessing and photographing.
Snorkeling at Keawaiki Bay can be good at times especially at the south end where a reef provides protection from the west and breaks up the wave energy from that direction. Note that due to the shape of this part of the bay, and the way the water flows, it can have strong currents so swimming without fins is not advised.
From the parking area along Highway 19 (see our map) its about a half-mile walk to Keawaiki Beach. You'll start on a road through the lava (someone's driveway) and continue about halfway to the shore. Just before you get to a gate, turn right onto a trail that goes north then quickly bends towards the ocean and avoids the homestead property. You can also walk south a short distance along the shore from Pueo Bay Beach (it's a similar hike from the highway to that beach).
When you get to Keawaiki Beach from the trail you'll want to go north or south to find sandier spots where it's easier to get into the water. North is toward the lone palm tree and south is toward the protected part of the bay. South of the homestead you'll find palm trees that provide shade and a beautiful backdrop to the beach. If you are lucky the rope swing in this area still remains when you arrive. If you walk south past where the beach ends, you'll find amazing tidepools on Kaiwi Point.
Address

HI-19
Waikoloa Village, HI 96738

Other Names

Ke-awa-iki Beach

Owner

Public

Fees

Free parking along the highway

Activities

Snorkeling, Beach Exploration, Hiking

Amenities

Black Sand Beach, Trails, Solo Beach Palm Tree, Tide Pools, Rope Swing, No Facilities
Waikoloa Village,US
6:57 am, December 7, 2023
72°F
L: 72° H: 79°
Feels like 73.08 °F clear sky
Wind gusts: 2 m/s
UV Index: 0
Precipitation: 0 inch
Visibility: 10 km
Sunrise: 6:46 am
Sunset: 5:44 pm
Nearby Beaches
0.2 miles away
Pueo Bay Beach is seldom visited as it's harder to get to than the resort beaches in the area....
1 miles away
Ohiki Bay is one of the least visited beaches on the Big Island of Hawaii, and not surprisingly it's...
1.4 miles away
Kapalaoa Beach is a hidden beach that some folks just stumble upon. It's located south of A Bay Beach...
Nearby Attractions
3.9 miles away
Kalahuipua'a Historic Park is centrally located in the Mauna Lani Resort and for that reason its parking lot is...
4.7 miles away
The Malama Trail is your access trail for Puako Petroglyph Archaeological Park. In the park you'll be able to...
Nearby Lodging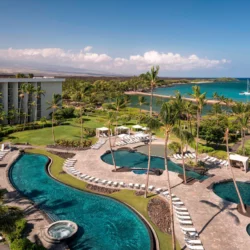 Reviews
There are no reviews yet. Be the first one to write one.