About Hilton Waikoloa Village on Big Island, Hawaii
Hilton Waikoloa Village in Waikoloa Village, Hawaii is one of the many hotels, resorts, cottages and inns located on . See the map below for nearby attractions, amenities and driving directions to Hilton Waikoloa Village. For reservations or questions you can call them at (808) 886-1234. Below are lists of the nearest beaches to Hilton Waikoloa Village as well as nearby attractions and other lodging options.
Address

69-425 Waikōloa Beach Dr
Waikoloa Village, HI 96738

Phone

(808) 886-1234

Website

Social media
Waikoloa Village,US
7:03 am, December 7, 2023
72°F
L: 72° H: 79°
Feels like 71.92 °F clear sky
Wind gusts: 2 m/s
UV Index: 0
Precipitation: 0 inch
Visibility: 10 km
Sunrise: 6:46 am
Sunset: 5:44 pm
Nearby Beaches
0.1 miles away
The Hilton Waikoloa Village Resort is an amazing place to say the least. If you haven't been there, you...
0.5 miles away
A Bay Beach is so named because pronouncing the real name, 'Anaehoʻomalu Beach, is difficult without lots of practice. This...
0.7 miles away
Inside the Mauna Lani Resort you have several options for beaches. One of the best beaches at Mauna Lani...
Nearby Attractions
1.7 miles away
Kalahuipua'a Historic Park is centrally located in the Mauna Lani Resort and for that reason its parking lot is...
2.4 miles away
The Malama Trail is your access trail for Puako Petroglyph Archaeological Park. In the park you'll be able to...
Nearby Lodging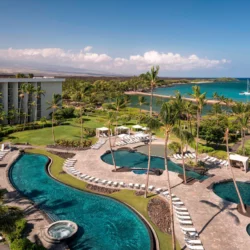 Reviews
There are no reviews yet. Be the first one to write one.