Waiulua Bay Beach at Hilton Waikoloa Resort
About Waiulua Bay Beach at Hilton Waikoloa Resort on Kona & West Island, Hawaii
The Hilton Waikoloa Village Resort is an amazing place to say the least. If you haven't been there, you must see it. Walking the hotel grounds is spectacular enough, but if you are staying in Waikoloa Resort and can get a pass to use their unique pools, saltwater lagoon, and other facilities, it's even better.
The resort is built on 62 acres surrounding Waiulua Bay. All of the paved paths around the resort are open to the public.
The north shore of the bay is all lava rocks, however the park above it is wonderful. Walk out to see the marble Buddha statue at Buddha Point and take in the view from the marble benches. The pathways and footbridges are well maintained here, and everywhere you walk you'll see marble statues of animals and mythical figures. You can spend hours walking the grounds as there's so much to see.
The south shore of the bay is also mostly solid lava rock but behind that it's got a softer surface made up of small white coral chunks where you can bring a beach chair to enjoy the view. Near this  cobbled beach there's a dolphin lagoon where visitors can swim with dolphins (reserve ahead of time). A café called the Lagoon Grill is next to the beach and other restaurants are nearby too.
The sandy beach on the shore of the lagoon is called Lagoon Beach. It is used mostly by Hilton hotel guests, but it is open to the public. They charge a fee for all day access and an overnight stay is not required (reservations recommended though).
Not many people swim in the bay, but the snorkeling is surprisingly good especially out farther in the bay (beyond the rocks). Don't swim out that far without fins.
To find free parking for the Hilton Waikoloa Beach see our map below which points to the small lot on Waikoloa Beach Drive near the intersection with Keana Place. You can also pay for self-parking or use the valet at the enormous Hilton parking lot.
The path to the shoreline from the public parking lot goes through Waikoloa Anchialine Pond Preservation Area which has interpretive signs explaining their significance.
Address

Keana Pl & Waikoloa Beach Dr
Waikoloa Village, HI 96743

Other Names

Kaauau Point, Lagoon Beach

Owner

Public

Pet Details

No dogs allowed

Fees

Free parking (paid parking available at the Hilton lot)

Activities

Walking, Photography, Snorkeling

Amenities

Restaurants, Hotels, Shops, Pathways, Marble Statues, Viewpoints, Restrooms, Anchialine Ponds, Lagoons, Dolphins

Links
Waikoloa Village,US
9:55 pm, September 21, 2023
76°F
L: 75° H: 81°
Feels like 76.42 °F broken clouds
Wind gusts: 1 m/s
UV Index: 0
Precipitation: 0.01 inch
Visibility: 10 km
Sunrise: 6:12 am
Sunset: 6:21 pm
Nearby Beaches
0.6 miles away
A Bay Beach is so named because pronouncing the real name, 'Anaehoʻomalu Beach, is difficult without lots of practice. This...
0.6 miles away
Inside the Mauna Lani Resort you have several options for beaches. One of the best beaches at Mauna Lani...
1 miles away
Kapalaoa Beach is a hidden beach that some folks just stumble upon. It's located south of A Bay Beach...
Nearby Attractions
1.6 miles away
Kalahuipua'a Historic Park is centrally located in the Mauna Lani Resort and for that reason its parking lot is...
2.4 miles away
The Malama Trail is your access trail for Puako Petroglyph Archaeological Park. In the park you'll be able to...
Nearby Lodging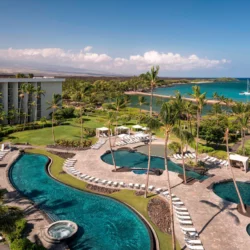 Reviews
There are no reviews yet. Be the first one to write one.