Four Seasons Resort Hualalai
About Four Seasons Resort Hualalai on Big Island, Hawaii
Four Seasons Resort Hualalai in Kailua-Kona, Hawaii is one of the many hotels, resorts, cottages and inns located on . See the map below for nearby attractions, amenities and driving directions to Four Seasons Resort Hualalai. For reservations or questions you can call them at 808-325-8000. Below are lists of the nearest beaches to Four Seasons Resort Hualalai as well as nearby attractions and other lodging options.
Address

72-100 Ka'upulehu Drive
Kailua-Kona, HI 96740

Phone

808-325-8000

Website

Social media
Mahaiula,US
3:05 pm, March 22, 2023
79°F
L: 75° H: 79°
Feels like 79.23 °F light rain
Wind gusts: 7 m/s
UV Index: 5.48
Precipitation: 0.02 inch
Visibility: 10 km
Sunrise: 6:26 am
Sunset: 6:35 pm
Nearby Beaches
0.1 miles away
Ka'upulehu Beach is the long sandy beach in front of the Four Seasons Resort Hualalai. It's a half-mile long...
0.4 miles away
Kahuwai Beach, aka Kona Village Beach, is a narrow dark sand beach on Kahuwai Bay in front of the...
0.7 miles away
Kuki'o is a popular beach at the Four Seasons Hualalai Resort property. The small size of the parking lot...
Nearby Attractions
9 miles away
Ala Kahakai National Historic Trail is also known as Kawaihae-Anaehoomalu and is often signed Ala Kahakai Trail. This coastal...
Nearby Lodging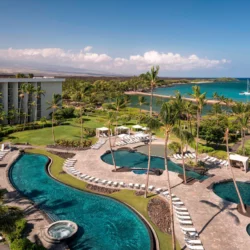 Reviews
There are no reviews yet. Be the first one to write one.