About Kukio Beach on Kona & West Island, Hawaii
Kuki'o is a popular beach at the Four Seasons Hualalai Resort property. The small size of the parking lot keeps the crowds down, but that also means that it fills early in the day. Walking the beach in bare feet has a unique feel. The slope of the beach is steep and the sand is course so your feet sink deep into it as you walk along the shore. There are a few trees scattered along the back of the beach for shade, but most of the beach is fully exposed to the sun.
Swimming and snorkeling in Kukio Bay is usually pretty good. The south end of the beach is the best place to get into the water as it gets some protection from Kikaua Point. Surfers might be riding the waves that break around that point. Kukio Beach is also popular with honu (sea turtles) so pay attention as you traverse the beach and give them lots of space as you pass.
To get to Kukio Beach get an early start on the day and drive into the Hualalai Resort. At the entrance shack ask for a parking pass and get directions to the public lot for Kukio Beach. If the lot is full, the other lots in the resort probably are too. The parking lot has restrooms which you should use before heading to the beach as it's about a 200-yard walk to the beach. The pathway to the beach passes by some picturesque anchialine ponds. Most of Kukio Beach has these ponds behind it, but they are part of the private resort.
From Kukio Beach you can walk a coastal trail through lava to Ka'upulehu Beach which is in front of the Four Seasons Resort Hualalai. A closer option is to walk south from Kukio Beach to Kikaua Point Park which has a lagoon that's ideal for kids (and adults) and shaded grass areas, and restrooms. Kikaua Beach is a family-friendly place and can be busy as some of those folks that park at Kukio are actually going to Kikaua Beach when that lot fills first.
Address

Kaupulehu Dr
Kailua-Kona, HI 96740

Other Names

Kuki'o Bay Beach, Uluweuweu Bay

Owner

Public

Pet Details

No dogs allowed in park

Fees

Free parking (get a pass at entrance gate)

Activities

Swimming, Snorkeling, Sunbathing, Walking

Amenities

Restrooms, Showers, Anchialine Ponds, Sea Turtles, Paved Walkways
Mahaiula,US
8:02 am, December 7, 2023
73°F
L: 73° H: 78°
Feels like 74.64 °F few clouds
Wind gusts: 2 m/s
UV Index: 0.49
Precipitation: 0 inch
Visibility: 10 km
Sunrise: 6:46 am
Sunset: 5:44 pm
Nearby Beaches
0.1 miles away
Kikaua Beach is one of the most family-friendly beaches on the Kona Coast. It's located in the Four Seasons...
0.6 miles away
Ka'upulehu Beach is the long sandy beach in front of the Four Seasons Resort Hualalai. It's a half-mile long...
0.7 miles away
Kua Bay Beach is one of the more popular beaches on the North Kona Coast. It has excellent white...
Nearby Attractions
8.4 miles away
Ala Kahakai National Historic Trail is also known as Kawaihae-Anaehoomalu and is often signed Ala Kahakai Trail. This coastal...
Nearby Lodging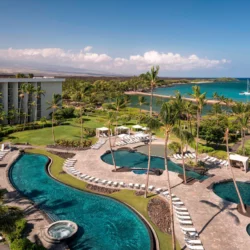 Reviews
There are no reviews yet. Be the first one to write one.